Di had a winning week striking three successes in a row! Congratulations to her and Jenny who won the Te Awamutu restricted competition overall and in their section (Open - Intermediate) on Saturday. They had a winning morning and did enough in the afternoon to achieve a clear win.  In the same tournament, Marlene Morey and her partner came first in the Intermediate/ Intermediate section.Well done to both pairs!
Competing against a strong field and building on their success at the weekend Di and Jane  took second place at the Putaruru tournament today. In the morning session Michael and Ella took first place closely followed by Jane and Di in second place. In the afternoon, however, by consistent play, Jane and Di took first place. This put them into second place overall,with Michael and Ella taking fifth place. In the afternoon session Calum and his partner, both intermediates, took third place. Well done, keep up the good work Cambridge players!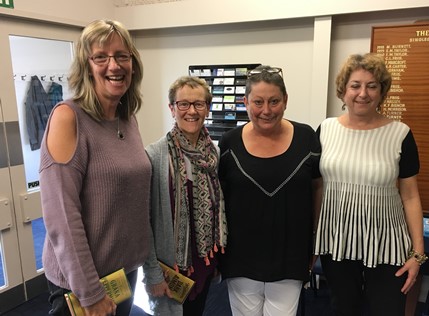 Jane and Di have done it! After a challenging first round today (Sunday), they fought back and finished third -  winning a place on the women's team to represent Waikato Bays in the Interprovincial trials later on in the year in Auckland.
Several pairs of Cambridge juniors took part in the second session of the League at Matamata at the weekend, with good results keeping them in contention for prizes at the end of the year. In the morning session, Diane Brown and Allison Vince came 3rd with 55.61%. Chris and Hennie Van Heuven came 5th in both morning and afternoon sessions with good averages above 52%. After the second session Barbara Andrews is in 7th place and Lynne Boyack is in 8th place on the ladder, not far behind the leaders. With four sessions to go it would be good to see more of our juniors taking the challenge!
Congratulations to our many winners at the Hamilton Ladies Day Intermediate competition! It was all very tight at the top!
In first place were Kay Dixon and Pam Halls with 116%.
Second were Liz Clayton and Ayako Imahashi just beating
Ruth Van Praegh and Dayelle Cole with 115.51% 
Meanwhile in the novice section Barb Wilson and Lesley Roberts came up trumps.
Fabulous to see Cambridge make its mark! Well done to everyone who took part.
Congratulations to Diane Emms who is our 2018 Monday night champion. She conquered a field of 39 who completed the champs.  Wonderful to see the field so strong and big this year. Thank you all for participating!
Di however was the star of the show and won by a country mile with her top four scores averaging 64%. Most of us are happy to get the occasional score of 60%+ but Di managed four out of the five week's results in this region.It demonstrates why she is our current club champ. Well done to her and her partners who helped her along - Jane, Clare, Kevin, Anne and Don.
Well done to Di and Kevin, who won the WINDSOR NISSAN PAIRS with an average of 60.63% Not far behind were Michael and Ayako with an average of 58.76%, Great scores, consistent play rewarded!
After 21 years of dedicated cleaning of our Clubrooms, Dayelle (ably assisted by husband Michael) has put away her brush and pan.
I was sorry to receive Dayelle's letter of resignation, but when I read that she had been doing this job for 21 years I was very impressed and didn't have the heart to try and talk her into carrying on with the wonderful job she has been doing.
Thank you Dayelle!
Are you confused about what your grade or rank means? And how do masterpoints work?
Attached is a copy of a booklet explaining Masterpoints. This was put together by the Canterbury Regional who has kindly let New Zealand Bridge share it with us.
Contact Info
PO Box 132, Cambridge  3450
Clubrooms: (07) 827 9392
Club Captain: (021) 762 543