Cambridge did not shine as a whole in the Matamata WAPs but it was fabulous to see Cambridge feature in the afternoon session.  Beth and Irenee come equal top E-W along with Michael and Ella - with 58.65% - awarding them with an A point in a hefty field of Open players.  Well done to all of them!
The winners of the dress up Wednesday night David's Emporium teams. The Ladybirds  Marlene Morey, Margaret Oliver,Barb Wilson, Mary Casey.  Hard to recognise them in their creative and unique costumes.! Fantastic effort. Second place went to the Dominos and third to the Train spotters.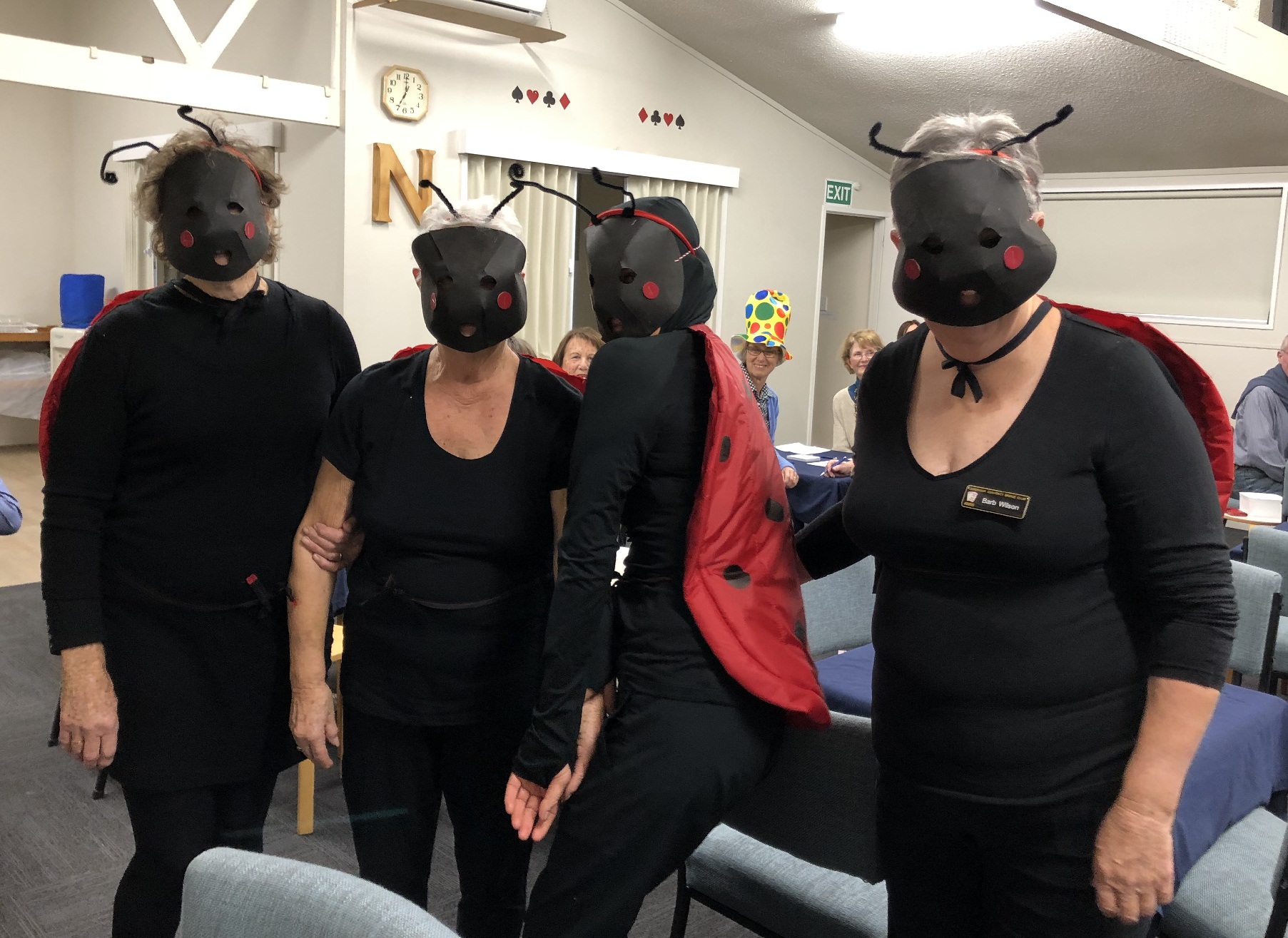 The winners of the David's Emporium teams! The Poker Dots  Kay Hanna, Gretchen Gavey, Arthur Treble,Clare Coles and Vanessa Payne ( absent from Photo)  They led from the first week and still were leading  at the finish.Well done!!  Second were Spot on and third Going Dotty.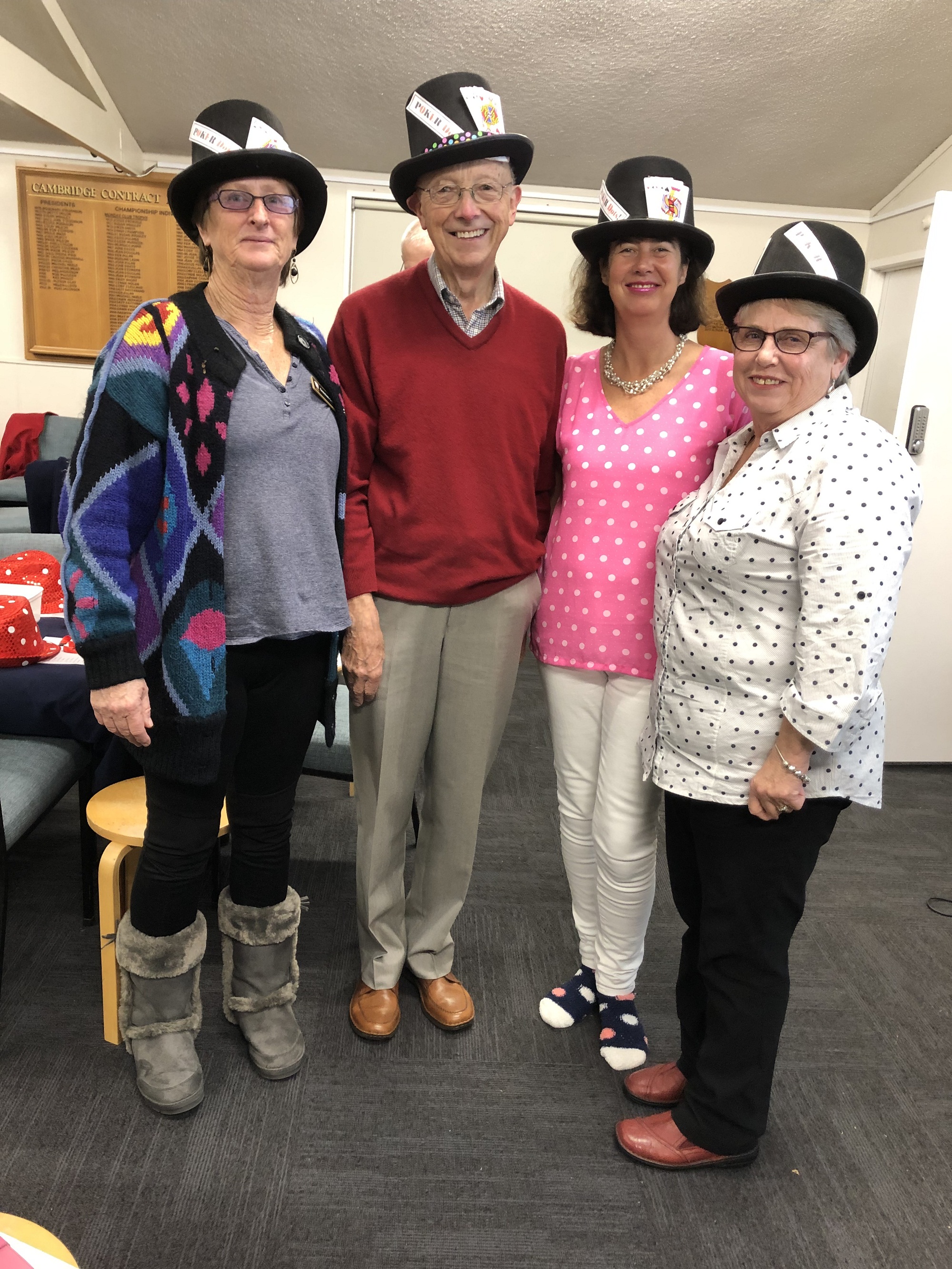 A Thursday afternoon celebration with Philippa and her bridge friends!

A great day was had by all the Cambridge members at the Restricted tournament at Te Awamutu on Saturday. In the morning session, Anna and her partner playing N/S led the A section with 71%, Michael and Karen took 3rd place with 55% and Liz and Clare were 4th.
Congratulations to Irenee and Calum for wining the Intermediate pair section and coming third overall at the Putaruru Restricted today after coming 1st EW in the morning and 3rd NS in the afternoon.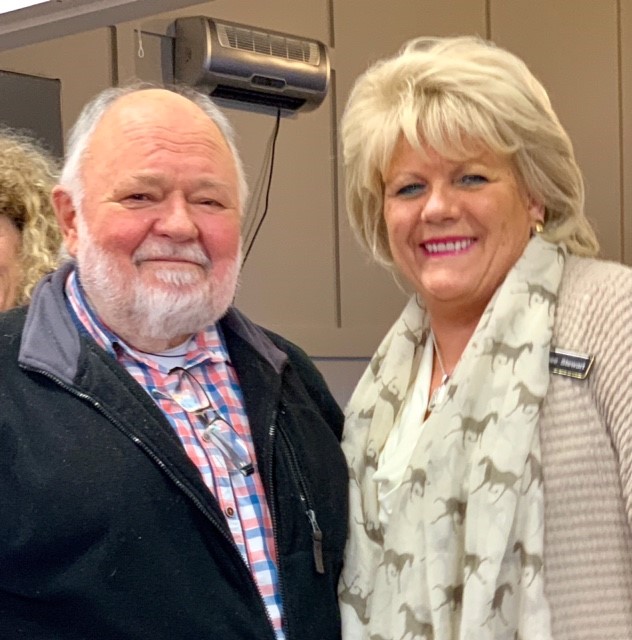 In the office we have a  Brother MFC-7340 Printer and an AOC LCD monitor which are no longer in use. If anyone would like to make an offer on these please see Liz.
Congratulations to Michael and his partner, Ella (Hamilton club), who won the Senior Interprovincial trials and will therefore be representing Waikato Bays along with Karen Martelletti and Julie Sheridan later in the year,
Bad luck to Kevin who was also in the running with his partner, Malcolm, until the last couple of rounds.
Last year Jane and Di represented Waikato Bays in the women's section and did us proud by coming  2nd in their section but this year neither of last year's Women's representative pairs entered.
Congratulations to Allison Vince and Sue Aitken and Kay Hanna and Gretchen Gavey who came second and third respectively at the Matamata Junior tournament on Saturday.  Also to Hennie and Chris van Empel who were first north south in the morning - well done to you all.
Cambridge was well represented at Hamilton's annual women's tournament on Tuesday with one third of the Intermediate section players coming from Cambridge.  We were all delighted when Helen Hicks and Margaret Oliver got a morning session prize and then even more thrilled to find that Anne and Liz, who were second in their section in the morning, had come first in the afternoon session and were overall winners with an average of 61.06, well ahead of the second pair on 57.1.
Contact Info
PO Box 132, Cambridge  3450
Clubrooms: (07) 827 9392
Club Captain: (021) 762 543