Once again wine and nibbles provided a festive conclusion to this year's bridge season. International Christmas night was the final celebration of 2017 when members arrived attired in costumes from different countries worldwide. An entertaining evening of Bridge, humour and fun was had by all.
Sitting e/w  and scoring over 58% made Ngaire and Marlene winners of the morning session and won them a bottle of wine each. Well done, keeping Cambridge at the top!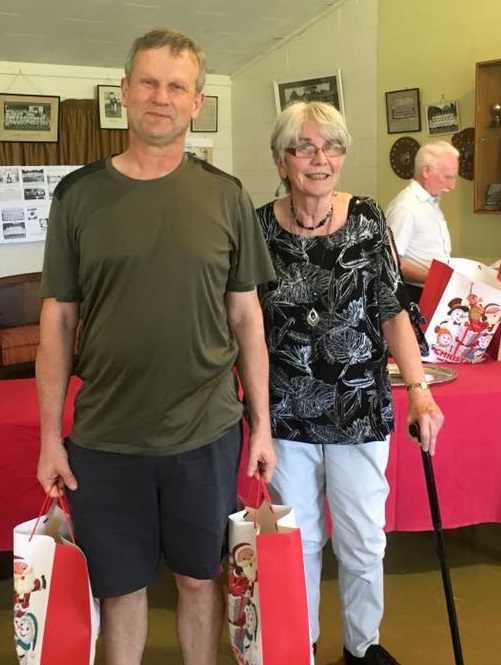 An outstanding performance by Cambridge's Eunice Eccles saw her and partner Malcolm Kirkby, both still juniors, achieve runner up position in the Huntly Christmas tournament.  As they took the room by storm, they missed out on winning by just a fraction - 0.22%.  No shame there - the winners were internationals Carol Richardson and Andi Boughey.  It was the trail of names below them that made t
Another lively evening at the club celebrating the penultimate Bridge session for this year. Over sixty members arrived wearing their Christmas 'bonnets'!  With so many creative designs to choose from, picking the winner posed a difficult decision for the judges, but Ainsley's beautifully adorned bonnet took top prize with Margreet's peg hat also winning a prize. Go to Galleries for more photos!
The President's Report Vicki, our hard-working and dedicated President, then went on to identify the highlights of 2017, the contributions made by many of our members who work quietly in the background, the achievements by many of our members, not only the top players, and the many and varied success stories the club has achieved over the past year.
 A Cracking Christmas Dinner - a huge success. A great time was had by the 60 members and partners who arrived, delightfully dressed up for the occasion, to celebrate the end of the Bridge season and to enjoy a beautifully prepared Christmas dinner.  Greeted by Calum as they entered, offering a choice of wine or a soft drink, the beautifully decorated room provided a festive atmosphere that was mirrored by the enjoyment of the members as they took their seats at the attractively laid out tables.
Kevin and Di improved their performance at each session and finally achieved top position, with an average of 59.72%. Ruth and Dayelle, with consistency, beat off Ayako and Margaret Fitzgerald to be runners up. In the unofficial handicap scoring  Kay and Barbara came top with an average of 56.19%  marginally beating with Ruth and Dayelle who averaged 56.19%  Congratulations to all of you!
New Zealand Bridge are really keen to hear from everybody just how they feel about Tournaments and Gradings - whether they're someone who plays tournaments or someone who doesn't.
After winning the first two sessions it was a close finish in the last session of the Alison Boon Real Estate Pairs with Ngaire and her partner coming in fifth but managing to keep the winning position; They were closely followed in second place by Ayako and Calum, with Kim and Louise third and Dawn and Rae in fourth position. Well done to all of you!
Contact Info
PO Box 132, Cambridge  3450
Clubrooms: (07) 827 9392
Club Captain: (021) 762 543