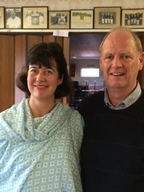 Cambridge can be very proud of our champion pair, Clare Coles and Kevin Whyte. Not only did they take the National Open Restricted Swiss Pairs title at last year's Congress but they have now followed up with topping the series of six events in the Waikato Area Pairs.
Not often do I enjoy being beaten but it was a delight being wiped out by Michael and his partner, Malcolm Smith, in the 8th round of the Swiss pairs tonight. Their win leap-frogged them from 10th position to first where they held their ground in the final 9th round to win the overall event.  What was also lovely was seeing the two of them relaxed and enjoying their game in the process.
Not often we have had one pair, let alone two collect prizes for bridge at the Sixes. Dressing up is usually more our strength!
Yes, it is that time of year when our club is ramping up to host the largest one day tournament in NZ. In five years, this event has taken off like no other in the bridge world. The fun formula of great bridge, trivia and some old fashioned fun of dress up and spot prizes brings people back for more! This year we have our largest contingent ever of 264. What makes it special is the team comraderie of six at different stages of their bridge career. It is a day packed full of opportunity to learn the odd useful tip.
The old website that we knew and loved so well is no more 

Oh dear. How sad. Never mind.
Click here to view our Thursday ladies egging on our New Zealand teams in the Burmuda Bowl coming up in Lyon, France from August 12-16.
The World Contract Bridge rule book gets updated every 10 years. The 2017 edition has just been rolled out and came into force in NZ on the 1st August. Murray Wiggins, NZ Bridge Chief Director held a seminar for directors in Matamata recently to explain some of the changes.
There have been a lot of minor changes to the rules which you probably don't need to be aware of (and many the rules have changed to reflect what people are doing already like it is now officially against the rules to move the board from the centre of the table during play).
Congratulations to Ruth and Dayelle who achieved an East West Session prize in the afternoon with 61.09% and this meant they finished in 4th place overall - well done! It was good to see five Cambridge pairs playing in this very enjoyable competition directed by our own lovely Joyce Catchpole.
Contact Info
PO Box 132, Cambridge  3450
Clubrooms: (07) 827 9392
Club Captain: (021) 762 543