Huge congratulations to Saty and Matt who had a huge morning scoring 67% leaving the rest of the field behind in the overall standings at the end of the day. Saty and Matt do not venture out to many tournaments these days so it was an extra special win for them.  Well played gentlemen!
Monday at 6.30am I leave home to start another of my Bridge-It Jane Flying Seminar Tours.  Arranged before I was elected to the Board, I am off to the Canterbury Region to address their Regional Conference and visit some of their smaller clubs to listen to how they are going and offer any help I can.  New Regional Bridge Mate Richard Williams comes out to two of the clubs with me and is at the Regional Conference.
Congratulations to Carol and Michael, well done to both of you. Michael continues his winning streak at the club, now having three consecutive wins with different partners on Thursday afternoons.
Congratulations to Barbara and Ayako, winners of the Cambridge Drycleaners Pairs. 
Congratulation also to Clare and Irenee who had a brilliant night,  coming first out of 140 pairs in X-clubs NZ, making 7S doubled and joining the over 70's club with a score of 72.8%. 
Congratulations to Kate and Clare who with their consistent play managed a narrow win over Michael and Martin in the Triton Hearing Pairs. Karen and Kim, both intermediate players,  took third place. Well done, everyone.
We all enjoyed having Margaret back at Bridge tonight and helping her celebrate her 95th birthday (actual date 1 October).  Until last year Margaret played Monday, Wednesday and Thursday most weeks so it was wonderful to see her back at the club tonight and I was privileged to play with her.
Cambridge has been well represented in this weekend's National Open Restricted Pairs which was held at the Distinction Hotel in Te Rapa. Jane Stearns  & Di Emms finished 7th with solid results in all four sessions while Kate McFadyen & Gwyn Lobb came 18th followed by Clare Coles & Kevin Whyte in 22nd place out of a field of 62 pairs.
Our very own Eunice Eccles has been appointed one of seven Regional Bridge Mates (RBMs) in the country. (RBMs are distinct from the Bridgemate tabletop devices we use at the club.) They are a newly implemented concept of Jane Stearns who was elected to the NZ Board on the back of the work she has been doing these last five years rejuvenating memberships of clubs in decline.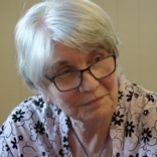 On Friday 22 Sep we enjoyed our final round of The Waikato Interclub Teams more fondly known as TWITs.
Thank you to all those (85) who completed an evaluation form. The feedback was mostly positive and so we will be running the event again next year using some of your ideas if we can.  Unfortunately we will be limited to hosting TWITs on a Friday night still though because there is no other week night where local clubs all don't play. This is why the equivalent event is run on a Friday night in Auckland and Wellington too.
Contact Info
PO Box 132, Cambridge  3450
Clubrooms: (07) 827 9392
Club Captain: (021) 762 543