13 of our club members went across to the Hamilton Restricted Pairs on Sunday 18 April.
Anne Blewden and Pam Moore had a great day coming first EW in the morning and 4th overall. Liz Clayton and Ian Moore came 2nd in the morning and Don MacPherson and his partner won the tournament.
Bill Bailey who has joined our club this year as an affiliate member came 1st in the Junior/Intermediate section.
We had a very enjoyable day in Hamilton.
Last year this event didn't go ahead because of Covid 19. This year we will cross our fingers and hope for the best!!! 
On Saturday we hosted the Cambridge Junior Pairs which is part of the Waikato Bays Junior League. We had players from 12 different clubs and that included 11 novices. We were also able to be host to 6 players who played in a tournament for the first time.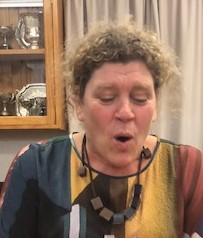 Congratulations to "our" Anna Kalma (now very honorary affiliate member of Cambridge), and Karen Martelletti - both of our region - who, along with Sam Coutts of Dunedin and John Skipper of Christchurch have been elected to the Board of NZ Bridge. It was re-election in the case of Karen and John who are current members.
Congratulations to Anna Kalma and Richard Solomon who won the second of the WAPs series on Sunday. They achieved an excellent score of 68% in the morning followed by another great score of 65% in the afternoon.
In 6th= place were Pam and Ian Moore.
A special thank you to Julie Rope and Alison Jenkins who played as an extra pair. 
On Sunday there was a good turn out to the Hamilton Intermediate and Junior Pairs. Although we had no Cambridge players on the Junior side we had 12 Cambridge members play on the Intermediate side. There were 35 pairs in total and we had some good results our way. Congratulations to Don MacPhearson and his Hamilton partner Richard for coming 3rd overall. And to Beth and Josie for coming 4th. Other placings in the top 10 were Nandy and Peter in 5th, Anne and Liz in 8th and Irenee and Leonie in 9th place.
Congratulations to Janet on her great play over the last 4 Wednesday nights! Janet played consistently with scores of
55%, 65%, 58% and 63%
Well Done Janet!!!
In second place was John Bull who took lessons last year. That's a terrific result. 
Also congratulations to Eileen Roberts on winning the Individual series on the other side of the room. Nice play Eileen!
Swiss Pairs is a slightly different format to our usual pairs format and we need to know who is playing. If you wish to play you need to enter this event. It is also important that your pair attend each of the three nights. (One sub permitted)
If you want to play and don't have a partner please phone Liz on 0276944438. If you want to play but have not entered on the clipboard at the club please contact Liz. Closing for entries 5pm Friday 26 March.
Looking forward to seeing you all on Wednesday night.
mycompasss.com (with 3 s's) has all sorts of interesting information about your bridge playing! Using the Quick Links allows you to see how much money you have left in your table money account. You can also search your name in the Compass NG Listings and see all your club results with graphs tracking your progress. On our website homepage there is a link to mycompasss.com.
Contact Info
14 Forth Street
PO Box 132, Cambridge  3450
Clubrooms: (07) 827 9392
Club Captain: 027 694 4438